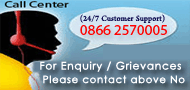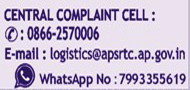 How to Book a Ticket
---
A passenger who requires to book a ticket has to visit APSRTC Reservation counter or any Authorized Ticket Booking Agent's counter.
There is a printed "Integrated requisition form for reservation/cancellation/ postponement/ preponement".
The Passenger has to fill up the columns of the form and present it before the reservation clerk/ATB Agent along with fare amount.
---
AUTHORIZED TICKET BOOKING AGENTS IN REGION :
To extend ticket reservation facility to the doorsteps of the customer and to improve the sale of tickets, and scheme of computerized reservation system was introduced during the year, 1998. About 2025 Computerized ticket booking centres are available across the state. Through the Authorised Ticket booking agents, daily 11,900 tickets are sold on an average realizing an amount of Rs.53,69,401/-.
LINK TICKET SYSTEM TO TIRUMALA & TIRUPATI :
On reaching Tirupati (to avoid waiting in queue for purchase of tickets to proceed to Tirumala), the system of link tickets (Rs.53/- for ordinary and Rs.29/- for Express) to Tirumala has been introduced. These tickets are available at all the advance reservation counters and with the service conductors of Tirupati bound services.
Similarly, both up & down journeys ticket ordinary Rs.96/- , Express Rs.52/- can be purchased for onward and return journey from Tirupati to Tirumala. (These tickets are sold at all our Bus stations and through conductors of Tirupati bound services).