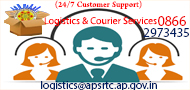 Profile
---
The origin of APSRTC dates back to June1932, when it was first established as NSR-RTD (Nizam State Rail & Road Transport Department), a wing of Nizam State Railway in the erstwhile Hyderabad State, with 27 buses and 166 employees. During the past 77 years, it has registered a steady growth from 27 to 14,123 buses with 423 bus stations, 129 Depots and 697 bus shelters.
The Corporation's buses cover 39.93 lakhs KMs. and carry 37.38 lakhs people to their destinations every day. They connect 14,123 villages to all major towns and cities in A.P which constitutes 95% of Road Transport. APSRTC operates to City and Mofussil areas. The Corporation's buses also ply to important towns and cities in the neighboring States of Tamilnadu, Karnataka, Odisha, Telangana.
The entire network is under the administrative control of 26 Regional Managers in 4 Zones. APSRTC under the present name was established on 11th January 1958 in pursuance of the Road Transport Corporations Act 1950.
---
APSRTC AT A GLANCE
I . FORMATION
a) As Department of Nizam State Railway. June 1932.
b) As Department of Hyderabad State Government. 01-11-1951.
c) As A. P. S. R. T. C. 11-01-1958.
---
II. ENTERED GUINNESS WORLD RECORD FOR OWNING LARGEST FLEET OF BUSES IN 1999.
III. The Trail blazer on the Road
Andhra Pradesh State Road Transport Corporation has been leading by an example. It has a number of firsts to its credit in India.
First to nationalize passenger Road Transport Services in the country-1932.
First to introduce long distance night express services.
First to introduce A/C Sleeper, Hi-tech, Metro Liner, Inter-City Services and Metro Express.
First to introduce Depot computerisation-1986.
First to appoint Safety Commissioner for improving the safety of the passengers.
All the 126 Depots in the State are computerized.
Reservation of tickets on telephone and door delivery of tickets.
IV. SIZE AT INCEPTION (1932).
a) Number of Buses. 27
b) Number of Employees. 166
c) Capital Investment. (Rs. in Lakhs). 3 .93
---